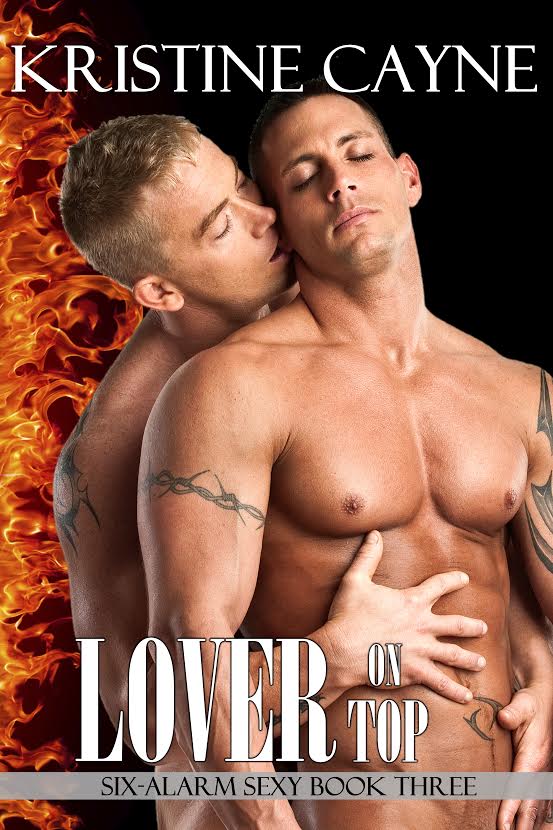 AVAILABLE MAY 2, 2016!


Title: Lover on Top
Series: Six-Alarm Sexy series (but can be enjoyed as a standalone)
Author: Kristine Cayne
Genre: M/M romance
Cover Photographer: Andre DeLoach/Empyrean Photography
Cover Models: Matt Schiermeier and Cameron Earnheart
Description
Sexy-as-sin paramedic Chad Caldwell has always been out and proud. Sure, some gay-bashers are harassing him, but he's determined to be true to himself. There's just one problem: He's hung up on Hollywood, his older brother's straight best friend. When Hollywood's apartment is damaged by fire, Chad reluctantly takes him in. Will Chad's heart survive such close proximity to a man who's both unattainable and everything Chad wants?
A perpetual bachelor, firefighter lieutenant Hollywood Wright hops from one woman's bed to another, searching for something he never finds. Has his father's emotional and physical abuse somehow damaged him? Or is something else going on, something that involves the intense and uncomfortable feelings aroused by his best friend's little brother?
To their mutual surprise, Hollywood finds Chad and his world fascinating—and much hotter than anything he's ever experienced. But with a rabidly homophobic father, is Hollywood doomed to die in the closet? Chad won't accept anything less than a public relationship, no matter how amazing the sex is. Can Hollywood ever accept the man he's always kept buried deep inside?
Excerpt from Lover on Top
Hands on his head, Hollywood paced back and forth between Chad and the neighboring building like a caged lion. "I'm confused. It's your fault. You and your tight ass. Your tattoos. And don't get me started on your little twink boyfriend."
"My boyfriend?" There was no way Chad could follow Hollywood's leaps of logic.
"Fucking cowboy told me about it. You slept with Blondie. It was that same night with Candy, wasn't it?"
Chad clenched his jaw. "Sandy."
"Who the fuck cares?" Hollywood shouted.
"Why are you so upset?" Chad asked. "You're straight."
"I don't know what the fuck I am. You've got me watching gay porn. Fantasizing about—" Hollywood gnashed his teeth together and rubbed his face with both hands. The sound of his stubble scraping against his palms had Chad's heart rate shooting up. Even when he was a mess, Hollywood was hot.
"What do you fantasize about?" Chad couldn't help asking any more than he could help the rasp in his voice.
Hollywood stopped his pacing, hesitated, then advanced on Chad. Each step slow and deliberate. Chad sucked a breath into suddenly deflated lungs. Oh God. He was so fucking turned on. And what kind of slut did that make him? He didn't know if Hollywood was going to kiss him or beat the shit out of him. All he knew was that he needed to find out.
With rough movements, Hollywood grasped the sides of Chad's head. "I can't think of anything except kissing you. Your lips, are they soft or hard? How would your stubble feel against my skin? What do you taste like? It's driving me crazy." He stared into Chad's eyes. "You are driving me crazy."
Chad couldn't believe this was happening, tonight of all nights. He wanted to kiss Hollywood, and so much more. But... "We—we can't."
"Why not?" Hollywood got closer so their chests were touching. Chad inhaled the scent of Hollywood's skin, his soap, that delicious undernote that was his alone, and he shivered. If Hollywood pressed into him anymore, he'd know exactly how much Chad wanted him.
"You've had too much to drink. I can't be an experiment." His voice broke. He cleared his throat. "I can't be someone you just brush off as a drunken mistake."
"I'd never do that to you." Hollywood slid his fingers into Chad's hair, the gentle caress almost bringing him to his knees, a position he'd have been happy to assume were the circumstances right.
"You say that now, but what about tomorrow?"
Hollywood's lips curled into a pout that would have had Chad laughing if it hadn't been so sexy. "You promised. You said three days. Three days is now."
Every cell in his body craved more of Hollywood. Still, he shook his head. "No." They were both stronger than this.
"You can't make me wait anymore." Hollywood pressed their foreheads together and leaned his weight into Chad. His erection dug into Chad's belly.
"Oh God." Chad moaned and his hands went to Hollywood's shirt, pulling him in. "I don't want to wait either."
Giveaway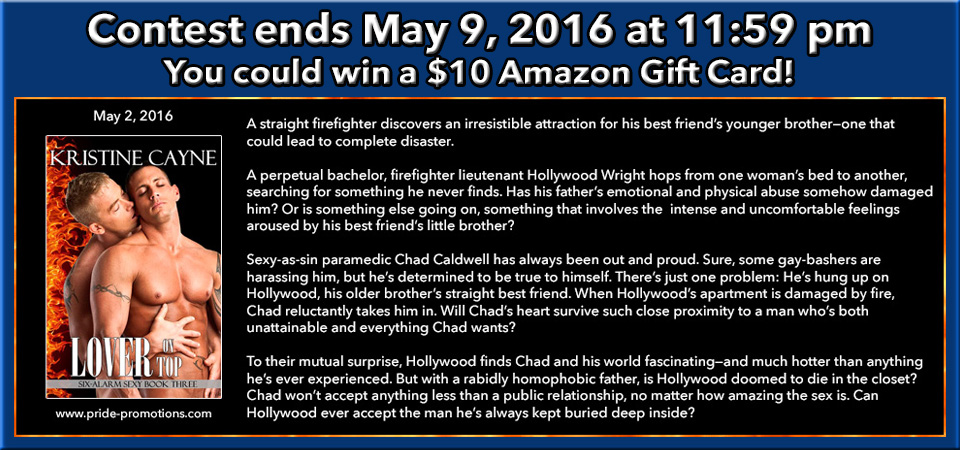 In order to thank all the wonderful readers who've shown so much enthusiasm for this book, with the help of
Pride Promotions
, we've put together a small giveaway. Enter via rafflecopter at the link below. Good luck!
a Rafflecopter giveaway
About the Author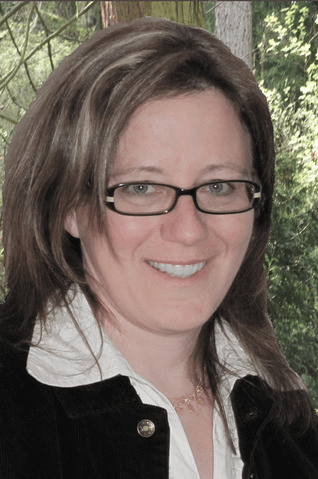 Kristine Cayne's books have won numerous awards and acclaim. Her first book, Deadly Obsession, was an RT Book Reviews Top Pick and won Best Romance in the 2012 eFestival of Words Best of the Independent eBook Awards. Her second book, Deadly Addiction, won two awards at the 2014 eFestival of Words and 1st place in the INDIE Awards, Romantic Suspense Category (a division of Chanticleer Book Reviews Blue Ribbon Writing Contests).
Her book Under His Command won Best BDSM Romance at the 2012 Sizzling Awards and was a finalist in the 2013 eFestival of Words and 2013 RONE (Reward of Novel Excellence) Awards, and her book Everything Bared was a finalist in the Erotic category of the I Heart Indie awards.
Other Books in the Six-Alarm Sexy Series
Aftershocks (Prequel) *** FREE from most ebook sellers
Under His Command (Book One) *** FREE from most ebook sellers
Everything Bared (Book Two)
Handle with Care (In-between Novella)
Six-Alarm Sexy, Volume One
(ebook and print, Aftershocks and Under His Command)
Six-Alarm Sexy, Volume Two
(ebook and print, Everything Bared and Handle with Care)
Available from your favorite ebook seller!